Welcome to our comprehensive guide, where we delve deep into the intricacies of corn silage making and storage. If you're a livestock owner, you're likely already aware of how crucial high-quality feed is for your animals. Corn silage stands out as one of the most nutritious and cost-effective options available. However, achieving its full benefits goes beyond mere feeding; it's also about mastering the art of corn silage making and storage. From selecting the optimal harvest time to choosing the best storage methods, understanding corn silage making and storage can significantly impact both your livestock's well-being and your financial success. Stay with us to uncover invaluable tips and best practices to ensure you're making the most of your corn silage.
---
Table of Contents
---
What is Corn Silage?
Corn silage is essentially corn for the uninitiated, and the stalk is preserved through fermentation. Think of it as pickling corn—only this pickle is a high-nutrition meal for your livestock.
Corn Silage is a very popular animal feed around the world and is known for its multiple advantages. For one, it has a high nutritional value for animals feeding on it. It's also fibrous by nature, which means that it's used as the main source of protein for livestock feeding. Moreover, it's easy to digest and provides good amounts of minerals and nutrients. If we adopt the best corn silage-making methods, not only can nutritional values be preserved, but they can be enhanced.
In Pakistan, corn silage is most commonly fed to cattle as part of their diet. However, it can be used for other purposes as well. Making corn silage bales is an effective way to preserve and use silage animal feed for the long term. In some cases, it can be used for more than 2 years. This includes making corn silage bales for smaller animals like goats and sheep or fs17 making silage from corn crops.
---
The Basics of Corn Silage Making
The Right Time to Harvest
Timing is everything. Harvest the corn too early, and you lose nutritional value. Too late? You've got dry, unappetizing feed on your hands. So when's the golden hour? Usually, when the corn is between 65-70% moisture.
Types of Corn to Use
Not all corn is created equal. For hay, you want types rich in carbohydrates and fibers—this gives better fermentation results. You get that. It's like choosing the perfect grapes for winemaking.
---
Pre-Harvest Preparation
Field Selection
Before you even get to harvesting, you need to pick the right field. Look for well-drained, fertile soil. No one wants waterlogged, rotting silage.
Machinery Preparation
Your machinery should be in tip-top shape. A malfunction mid-harvest can cost you time, money, and the quality of your hay.
---
The Harvesting Process
Cutting
The first step? Cut the corn at the base—leave about six to eight inches of stalk. This helps in nutrient absorption during the fermentation process.
Chopping
The chopped pieces should ideally be between 3/8 to 1/2 inch in size. Too large, and you risk poor compaction. Too small, and you lose essential nutrients.
Collecting
Load the chopped corn into a wagon or directly into the silo. Efficiency is key here to minimize nutrient loss.
---
Post-Harvest Process
Packing
Pack the silage in layers to remove air pockets. Oxygen is the enemy of good fermentation, folks.
Storing
Storage solutions range from bunkers to bags to towers. Each has its pros and cons, depending on your needs.
Sealing
Seal the storage unit tightly to kickstart the anaerobic (without air) fermentation process.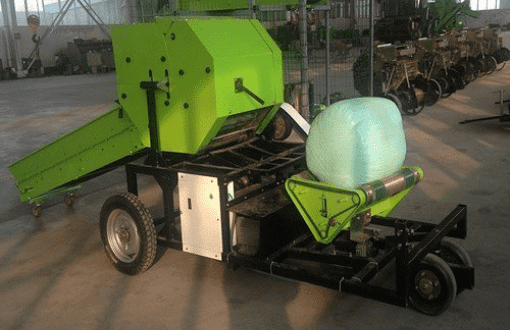 ---
Corn Silage Storage Techniques
Traditional Methods
From using salt to vinegar, traditional methods are still employed in various parts of the world. But are they efficient? That's debatable.
Modern Methods
Acid-based additives or bacterial inoculants can speed up fermentation and preserve nutrient content.
---
Quality Assessment in the Process of Corn Silage Making and Storage
Smell Test
If it smells bad, chances are it is bad. A strong, musty odor indicates poor fermentation.
Visual Inspection
Mold or a slimy texture? That's a big no-no. Quality hay should be the same color as when it was stored.
---
The Importance of Proper Corn Silage Storage
However, the corn silage bales-making process is for more than just milk-producing cattle. It can be used to make several types of food for pets, meat-producing cattle, and zoo animals, mainly because it's easily digested and has great crude protein content. Many people make pet treats out of it since it's a relatively cheap source of food and is usually fairly easy to find. Most people know how to make silage. More prominently, corn silage-making for small-scale farmers is relatively easy. These bales are made from strips of the husks, which are free of water and kept in dry storage space.
Badly preserved silage wastes your hard-earned money and can harm your livestock. Proper preservation is non-negotiable, folks.
---
Common Mistakes and How to Avoid Them: Corn Silage Storage
From incorrect cutting size to improper sealing, little mistakes can cost you big. Keep an eye out and learn from others' mistakes.
Corn silage can be stored in several different ways after making corn silage bales. Two of the most common storage methods include straw and wet bags. Both these storage methods allow enough air circulation to ensure that moisture is kept at bay while the grain remains moist.
Typically, bales made from premium-grade corn will have a higher packing type than ones made from lower-quality corn. The second method of storage is to pack it in a dry wicker basket. Baskets are great for private limited company operations where corn needs to be shipped to different locations. They're ideal for private limited company operations, even for small farmers who need to learn how to make silage bales.
When choosing the best corn silage bales packaging and wrapping type, you'll need to consider several factors. First of all, the bags or bales you choose must provide adequate air ventilation to prevent moisture from accumulating within. Corn silage tends to go bad when left out in the open. Airborne dust, for example, can easily get inside and may start molding the feed. In addition, the quality of the silage itself will only be recovered if it's stored in good condition. Poor baling and packaging can even make the finished product ineffective.
Making corn silage comes in two forms – bags or bales. You can choose the type of packaging based on the conditions you're going to use to ship it. Bagged corn silage bales made for small-scale farmers are ideal for sending as a ground beef concentrate. Still, bales are ideal for shipping in the same way as you'd ship anything else.
Corn silage is best stored in a cool, dry place away from direct sunlight. Some specialists recommend that corn should be stored in a storage unit with a rooftop covered, but not all, so that's something to think about.
---
Advantages of the Corn Silage Making Process
There are many other advantages of choosing the best corn silage-making process using bags or bales. Perhaps the most important thing is that the material offers protection against pests such as rodents and insects. The last thing you want when sending corn animal feed to your private limited company is to have pests get into your product. Also, it can help you save money on having to ship out bags and bales to various locations since most companies that deal with this material will ship in both ways like we use while shipping fs17 making silage from corn crops.
As with any type of animal feed, you also need to pay attention to the quality. Many companies use low-grade corn silage or pellets, so pay attention to the Corn Quality Review when looking at companies like this. If you don't know anything about this material, this isn't an area to try and be overly scientific. You just need to look at the Corn Quality Review and judge for yourself if the company is selling what they say they are while making corn silage bales.
The other issue you'll run into is that some companies will tell you they have the best quality possible and then try to get you to buy their other products as well. When companies like this sell silage animal feed, they're trying to make you believe they have better quality than they do.
They're hoping you'll buy their other products when you realize what you're getting is an inferior corn silage-making process. The only way to avoid this situation is to pay careful attention to the Corn Quality Review. If the reviewer doesn't have good things to say about a product, stay away from buying it. This isn't to say that you should never listen to reviews at all. But if a company is consistently getting bad reviews, you may want to look elsewhere.
When it comes down to it, there are a few downsides to feeding your livestock with silage. It's one of the most affordable ways to make sure your cattle get the nutrients they need. Although it does take some effort to care for your animals properly, it's well worth it. So, if you're looking for a cheap, healthy way to make sure your animals stay healthy, with the knowledge of how to make corn silage bales for animal feed? It can keep them nourished and healthy for years to come!
---
Conclusion
Corn silage is more than just animal feed; it's an investment in your livestock's health and, by extension, your livelihood. From Corn Silage Making and Storage, every step is crucial. So next time you're making silage, ensure you've covered all your bases.
---
Frequently Asked Questions (FAQ's)
What's the best corn type for silage?
Look for types rich in carbohydrates and fibers for better fermentation.
When should I harvest corn for silage?
Aim for 65-70% moisture content in the corn.
What size should the corn pieces be?
Ideally, between 3/8 to 1/2 inch in length.
How can I tell if my silage is of good quality?
Perform smell and visual tests for indicators.
Are traditional preservation methods effective?
They can be, but modern methods usually provide better results and nutrient preservation.
---
Looking for expert advice on corn silage making and storage? Agricomplex Pakistan offers a free consultation to answer all your questions. Contact us today at 0309-111 06 06.