Stationary Silage Choppers
"Stationary silage choppers", commonly referred to as a forage harvesters, are integral for livestock farming. Unlike their mobile counterparts, these choppers remain fixed in one spot, with farmers bringing crops to the machine. They swiftly cut crops like maize and sorghum into small pieces, preparing them for fermentation into silage. Silage is crucial for feeding livestock when fresh fodder is scarce. These stationary devices are often more durable and handle large volumes of crops quickly. With dependable "stationary silage choppers", farmers can consistently provide quality feed for their livestock, ensuring both farm efficiency and animal well-being.
Stationary Silage Choppers Features
Robust Build: Designed to withstand heavy-duty use without wear and tear.
High-Capacity Hopper: Allows for bulk loading of crops, speeding up the chopping process.
Adjustable Cut Lengths: Enables farmers to choose the size of the chopped pieces based on the crop and intended use.
Safety Mechanisms: Inbuilt features to protect users from accidents and ensure smooth operation.
Energy Efficient: Designed to use minimal power for maximum output.
Stationary Silage Choppers
When considering "stationary silage chopper" and harvesters, there are several renowned models and brands available in the market that cater to different farming needs. Here's a breakdown: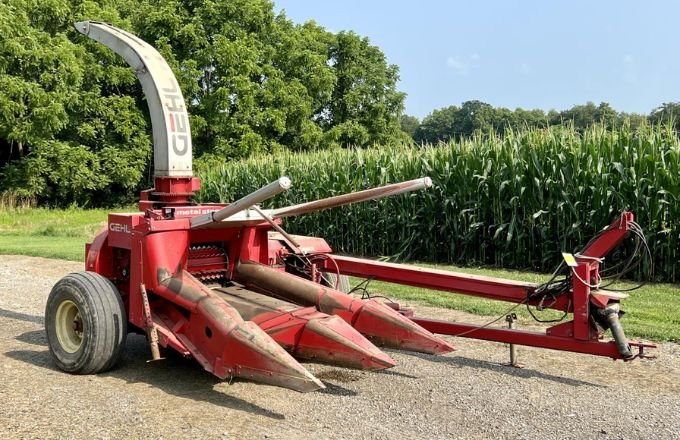 Gehl

A reliable name in the agricultural machinery sector, Gehl's stationary choppers are known for their durability and efficiency. They're designed to process various types of forage with ease.
John Deere

A household name in farming equipment, John Deere's stationary choppers deliver consistent performance and are built to last, ensuring a smooth operation throughout.
Roto Grind

This brand offers versatility with its choppers, able to handle both grains and roughage efficiently, ensuring high-quality silage production.
Stationary Silage Choppers Benefits
Consistent Feed Quality: Ensures uniformly chopped crops for optimal fermentation.
Time-Saving: Processes large volumes quickly, freeing farmers for other tasks.
Cost-Effective: Durable design means less frequent replacements and repairs.
Space-Efficient: Being stationary, it can be strategically placed without needing frequent movement.
Improved Livestock Health: Better fermentation leads to more nutritious silage.
Stationary Silage Choppers Uses
Forage Production: Converts crops like maize, sorghum, and alfalfa into silage.
Livestock Feeding: Directly chops fresh crops into smaller sizes for immediate livestock feeding.
Compost Preparation: Helps in chopping plant residues to speed up the composting process.
Mulch Creation: Chops organic materials into finer pieces suitable for mulching.
Crop Recycling: Processes crop waste or residues, turning them into valuable feed or compost.