The New Holland TX Series represents a groundbreaking line of combine harvesters produced by New Holland, a global agricultural machinery brand renowned for its innovative solutions. Introduced to meet the evolving demands of modern farming, the New Holland TX Series combines efficiency, durability, and cutting-edge technology to optimize harvesting operations. These machines, with their advanced features and powerful performance, are designed to maximize productivity while ensuring a high-quality grain output. Distinguished by their distinctive yellow and blue livery, the TX Series stands as a testament to New Holland's commitment to providing farmers with reliable, state-of-the-art harvesting equipment. As with all New Holland products, the TX Series continues the brand's legacy of merging tradition with innovation in the world of agriculture.
New Holland TX Series Features
High-Capacity Grain Tanks: Designed to accommodate larger yields without frequent emptying.
Advanced Threshing System: Provides efficient grain separation with minimal losses.
Intuitive Control System: Offers easy operation with touchscreen controls and real-time monitoring.
Eco-friendly Engine: Compliant with the latest emissions standards, reducing environmental impact.
Adjustable Crop Settings: Enables customization based on the type of crop being harvested.
New Holland TX Series Models
TX30:

An entry-level model perfect for small to medium-sized farms. It combines efficiency with ease of use, making it a great choice for those new to combine technology.
TX32:

Slightly more advanced than the TX30, this model provides a balance between performance and affordability, suitable for varied crop types.
TX34:

Designed for medium-sized farms, the TX34 offers enhanced features, including better grain tank capacity and improved threshing capabilities.
TX36:

Tailored for larger operations, this model boasts increased horsepower and advanced harvesting technology, ensuring faster processing.
TX62:

A robust model suited for varied terrains, offering a blend of power, efficiency, and durability.
TX63:

Building upon the TX62's foundation, the TX63 comes with added features and improved crop settings, making it versatile for multiple grain types.
TX64:

With advanced tech integration, this model offers higher productivity and reduced grain loss, ideal for extensive agricultural operations.
TX65:

Tailored for high-yielding crops, the TX65 provides a combination of speed and efficiency, ensuring quality harvesting.
TX66:

A powerhouse in the series, the TX66 boasts a larger grain tank, more horsepower, and sophisticated control systems, perfect for large-scale farming.
TX67:

Building on the strengths of the previous models, the TX67 offers enhanced threshing capabilities, ensuring minimal grain loss and maximized productivity.
TX68:

The pinnacle of the TX Series, this model is equipped with state-of-the-art technology, the highest grain tank capacity, and unmatched performance metrics, making it the top choice for mega-farms and custom harvesting businesses.
New Holland TX Series Benefits
Increased Productivity: The advanced systems allow for faster harvesting times.
Reduced Grain Losses: Efficient mechanisms ensure that more of the yield ends up in the tank.
Ease of Operation: User-friendly controls make it accessible for operators of all experience levels.
Lower Maintenance Needs: Durable build and self-diagnostic systems lead to less frequent servicing.
Cost-Efficient: Fuel-efficient engines and reduced downtime result in overall cost savings.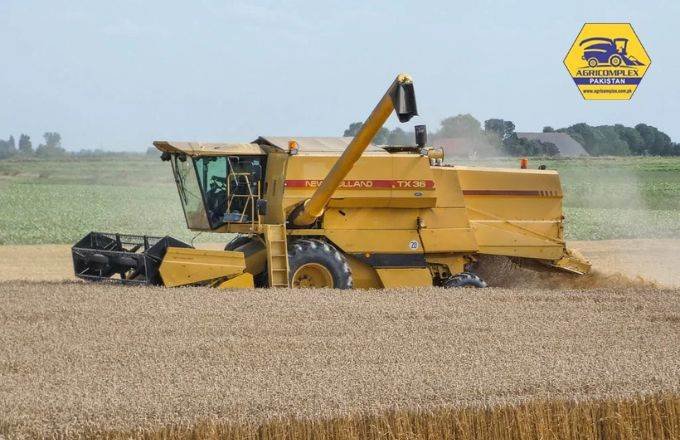 New Holland TX Series Uses
Grain Harvesting: Designed primarily for crops like wheat, barley, and corn.
Straw Collection: Post-harvest, the machine can be utilized for straw baling activities.
Mixed Farming Operations: Suitable for farms growing multiple types of crops thanks to its adjustable settings.
Large-scale Agriculture: Ideal for extensive agricultural operations due to its high capacity and speed.
Custom Harvesting: Due to its efficiency, it's a favorite for businesses that offer harvesting as a service to other farmers.