Silage, the fermented fodder used primarily for feeding livestock, has long been a staple in agriculture. Over the years, the methods of storing silage have evolved, leading to the development of various types of bailers. Among these, the large round silage balers stand out for their efficiency and the sheer volume of fodder they can process. These machines are designed to compress and wrap harvested crops, such as grass or hay, into large cylindrical bales, which are then stored and fermented for livestock feed.
Working of Large Round Silage Balers
The operation of large round silage bailers involves a series of stages:
Pick-up: As the bailer is driven across a field, a pick-up mechanism gathers the crop and feeds it into the machine.
Compression: The crop is then compressed into a dense, cylindrical shape. This is achieved using a combination of belts, rollers, or chains that rotate, gathering and compressing the crop as they go.
Wrapping: Once the desired size of the bale is reached, the bailing process pauses momentarily for wrapping. A plastic or net wrap is applied around the bale, ensuring it's sealed and protected from external elements. This wrapping also plays a crucial role during the fermentation process.
Ejection: After wrapping, the bailer opens up, and the bale is ejected onto the ground. The machine is then ready for the next cycle.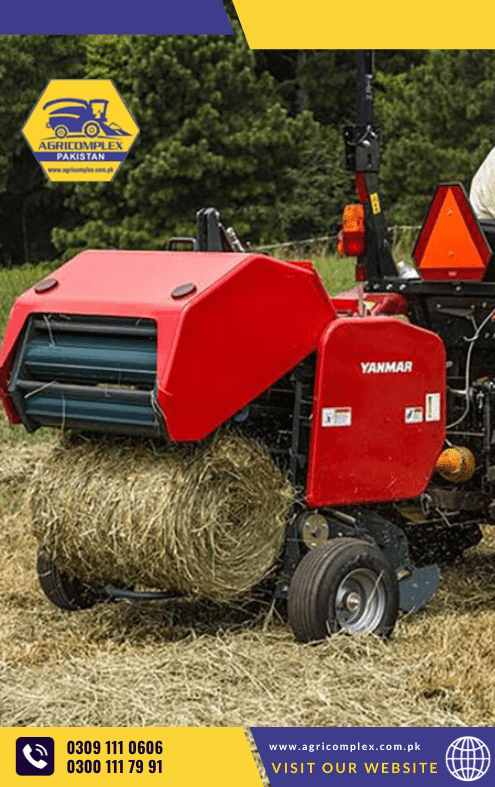 Large Round Silage Balers Uses
Forage Storage: One of the primary uses of large round bailers is to store forage crops such as grass, alfalfa, or clover for long periods, ensuring livestock have a consistent food source throughout the year, especially during winters or droughts.
Efficient Harvesting: These bailers allow farmers to harvest and store large quantities of crops in a short span, thus reducing the dependency on weather conditions.
Land Management: By removing excess grass or hay from fields, bailers help in managing and maintaining the health of pastures, reducing the risks of diseases and pests.
Large Round Silage Bailers Advantages
Volume: These machines can produce large bales, enabling farmers to store a significant amount of fodder in a compact form.
Storage Efficiency: The round shape of the bales means they shed water easily, reducing the chances of spoilage from rain or snow. Additionally, their design ensures minimal loss of nutritional content during storage.
Ease of Transport: Despite their size, round bales are relatively easy to transport, whether it's within the farm or to external locations.
Flexibility: Large round silage bailers can work with a variety of crops, allowing farmers to switch between different types of fodder depending on the season and requirement.
Economical: In the long run, these bailers can prove to be cost-effective by reducing labor costs and storage losses and maximizing the yield from harvested crops.