Introduction to New Holland FR Series
New Holland's FR Series Harvesters stand as a testament to innovation in the world of agriculture. For generations, farmers have relied on the New Holland brand for its consistency and reliability in farming machinery. These harvesters are designed keeping the modern farmer in mind, offering improved efficiency, enhanced comfort, and superior performance. Whether it's corn, wheat, or any other crop, the FR series promises to deliver exceptional results every time.
With its cutting-edge features and the latest technology, you'll spend less time out in the field and have more top-quality produce stored away for the market. The FR series is not just a machine; it's a partner that works tirelessly alongside our hardworking farmers, ensuring the best yield season after season. Dive deeper into its features, and you'll understand why the New Holland FR Series Harvesters are becoming the first choice for many.
Top Features of New Holland FR Series Harvesters:
High-Capacity Design: Engineered to handle larger volumes of crops in less time.
Advanced Technology Interface: Equipped with a user-friendly touchscreen that aids in monitoring and controlling the harvester's operations.
Optimized Fuel Efficiency: Latest engine models that ensure reduced fuel consumption.
Adjustable Crop Settings: Allows for the customization of settings based on the type of crop being harvested.
Robust Construction: Built to withstand varied terrain and harsh weather conditions.
New Holland FR Series Harvesters Models
1. R480:

The R480 model from New Holland's FR Series is a testament to efficiency and reliability. Suited for farmers who require a combination of power and agility, this model is specially designed for medium-sized farms, ensuring a perfect balance between performance and fuel consumption.
2. FR550:

A step up from the R480, the FR550 offers more power and capacity. It's ideal for farmers who have slightly larger operations but still require a machine that's not too cumbersome. The engine delivers consistent power, making it a reliable choice for diverse terrains and crop types.
3. FR650:

Designed for larger operations, the FR650 boasts more horsepower and a bigger grain tank. This harvester is built to handle vast fields with ease, making it a perfect fit for those expansive farms or for farmers who want to maximize their yield without multiple machine runs.
4. FR780:

The FR780 is a powerhouse in the FR series. It's designed for those extensive operations where efficiency and speed are crucial. With its superior engine and increased tank capacity, it's ideal for commercial operations or big agricultural projects.
5. FR850:

The FR850 is almost at the pinnacle of the FR series, offering top-tier power and features. It's engineered for those who won't settle for anything but the best. With its high-end capabilities, it ensures that large fields are harvested in record time, with minimal losses.
6. FR920:

The FR920 is the flagship model of the FR Series. Packed with the latest technology and the most powerful engine in the lineup, this harvester is for the largest farming enterprises. Whether it's challenging terrains, vast expanses of fields, or a diverse range of crops, the FR920 can handle it all with unmatched efficiency.
Top Benefits of New Holland FR Series Harvesters:
Increased Productivity: Faster harvesting rates mean more acres covered in a day.
Cost Savings: Reduced fuel consumption and maintenance costs.
Versatility: Suitable for a variety of crops, reducing the need for multiple machines.
Enhanced Comfort: Ergonomically designed cabins with advanced features to reduce operator fatigue.
Reliable Performance: Consistent results and fewer breakdowns, ensuring uninterrupted farming.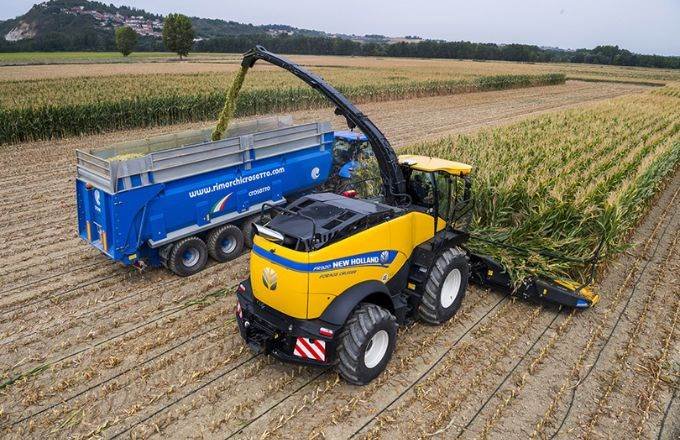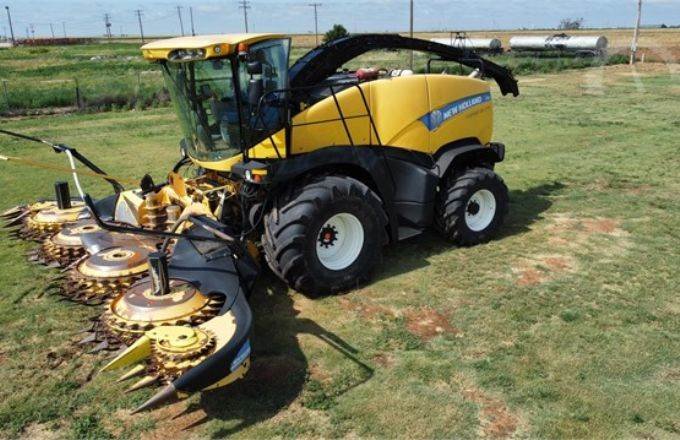 Top Uses of New Holland FR Series Harvesters:
Grain Harvesting: Efficiently collects grains, ensuring minimal losses.
Silage Making: Capable of producing high-quality silage for livestock.
Multi-Crop Harvesting: Ability to harvest diverse crops like corn, wheat, and barley.
Terrain Navigation: Performs efficiently even on uneven terrains, making it ideal for hilly areas.
Integrated Storage: Comes with storage facilities that allow for immediate temporary storage of harvested crops.