The Kubota Rice and Paddy Harvester is a machine that helps farmers. It is made to collect rice and paddy from the fields. Before this machine, farmers had to do this work by hand. That took a lot of time and effort. Now, with the Kabuta Harvester, it is faster and easier. The machine can go over a field and pick up all the rice and paddy. It is a big help for farmers. They can save time and do more work. The Kubota  Harvester is a good tool for modern farming. It is strong, reliable, and efficient. With it, harvesting season is better for everyone.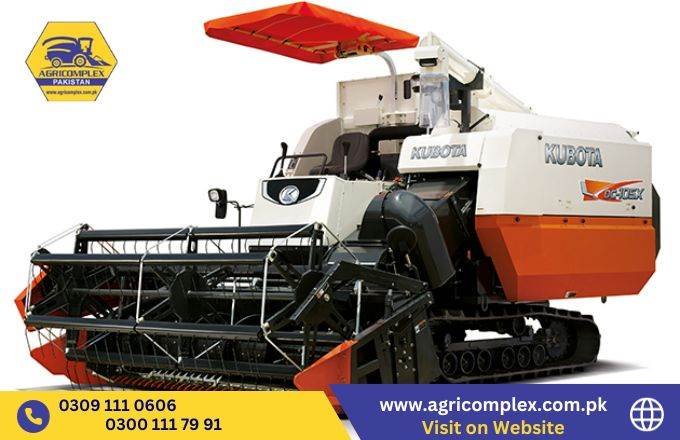 Kubota Rice and Paddy Harvester Features
Automatic Mechanism: Does the work without much manual help.
Durable Blades: Sharp and long-lasting for efficient cutting.
Large Storage Capacity: Can hold a lot of rice and paddy.
Fuel-Efficient: Works for a long time without needing much fuel.
Terrain Adaptability: Works well on different field types.
Kubota Rice and Paddy Harvester Models
Kubota PRO688Q:

A high-performance model, ideal for vast fields with its enhanced capacity.
Kubota PRO488-Q:

Efficient for medium to large-sized fields, offering both power and agility.
Kubota DC-68G-HK:

Known for its precise cutting mechanism and robust build.
Kubota DC-70PH Plus:

An upgraded model with better fuel efficiency and advanced features.
Kubota AR96:

A versatile machine suitable for diverse field conditions.
Kubota DC-60:

A model that promises durability and consistent performance across seasons.
Kubota DC-35:

Compact and suitable for smaller fields, yet packs a punch in efficiency.
Kubota DC-95GM Plus:

A powerful machine with enhanced grain storage capacity.
Kubota DC-68G-VK:

Features improved handling and maneuverability for tricky terrains.
Kubota DC-70G:

A balanced blend of power and efficiency, making it a favorite among many farmers.
Kubota AR-130:

Designed for maximum yield with its advanced harvesting mechanism.
Kubota SR-75:

A model known for its speed and quick turn-around time in the fields.
Kubota Rice and Paddy Harvester Benefits
Saves Time: Reduces the time needed for harvesting.
Less Labor: Fewer people are needed for the harvesting process.
Cost-Efficient: Saves money in the long run.
Consistent Quality: Harvests without damaging crops.
Reduces Waste: Collects most of the grains, leaving very little behind.
Kubota Rice and Paddy Harvester Uses
Rice Collection: Gathers rice grains from the fields.
Paddy Harvesting: Separates the paddy from the stalk.
Field Clearing: Removes leftover crops and prepares the field for the next season.
Grain Storage: Transfers harvested grains to storage facilities.
Land Management: Helps in maintaining the health of the soil by ensuring efficient harvest.