Introduction to Hay Balers
A "hay balers" are a piece of farm machinery that farmers use to compress cut and raked crops, such as hay, into compact bales that are easy to transport, handle, and store. Historically, hay was baled by hand, with workers manually gathering and binding hay. With the advent of modern machinery, the process of baling hay has become far more efficient, saving time and labor for farmers worldwide.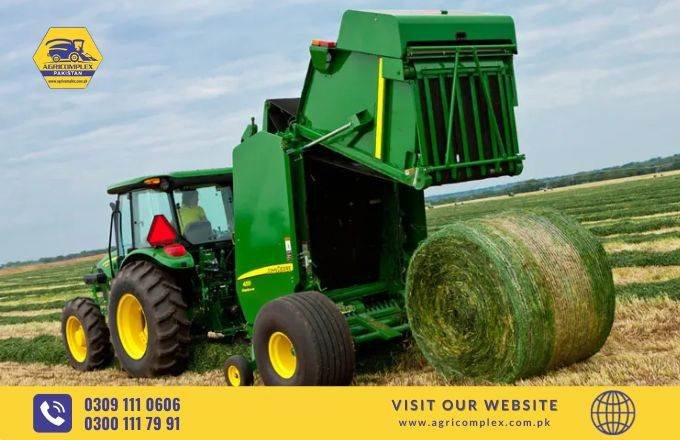 Working of the Hay Balers
Pickup: As the baler is towed through the field, a rotating component known as the pickup lifts the hay off the ground.
Feeding: The picked-up hay is then fed into the baling chamber. This is done either by augers or by a combination of augers and paddles.
Compression: Inside the chamber, plunger-like mechanisms compress the hay, pressing it into the desired shape. Depending on the type of baler, it can produce either rectangular or round bales.
Binding: Once the hay reaches the desired density, the bale is tied or wrapped to maintain its shape. This can be done with twine, netting, or plastic wrap, depending on the machine and the farmer's preference.
Ejection: The finished bale is then ejected from the back of the baler. Some advanced models may even have mechanisms that stack bales neatly for easy collection.
Use of Hay Balers
"Hay balers" are crucial for various farming purposes, including:
Animal Feed: One of the primary uses of baled hay is as a food source for livestock, especially during winter months when fresh pasture isn't available.
Mulch and Ground Cover: In some regions, hay is used as mulch in gardens or as a ground cover for erosion control.
Bedding: Hay bales can also serve as bedding for animals, providing a dry and comfortable space for them.
Building and Insulation: In some parts of the world, hay bales are used in construction, especially for eco-friendly buildings, serving as a natural insulator.
Sale: Many farmers produce hay not just for their own use but to sell to other farmers or businesses.
Benefits of the Hay Balers
"Hay balers" have brought numerous benefits to the world of farming:
Efficiency: Modern "hay balers" significantly reduce the time and manpower needed to bundle hay compared to manual methods.
Storage and Transport: Compact bales are easier to store in barns or sheds, protecting them from the elements. They're also easier to transport, whether it's moving them around a farm or selling them off-site.
Waste Reduction: By compressing hay into bales, there's less waste due to exposure to weather or being trampled underfoot by animals.
Economic Benefits: For those selling hay, a baler allows them to produce a more marketable product. Uniform bales are easier to price, sell, and deliver.
Flexibility: Modern balers offer flexibility in terms of bale size, shape, and type of binding. This lets farmers customize their bales to best suit their needs or the demands of the market.
"Hay balers" have revolutionized the way farmers handle and process hay. These balers are amazing. Their smart design and innovative features have made farming tasks so much simpler for everyone. And with the way technology's moving, we'll see even cooler upgrades in the future. It's all about helping farmers get the job done easier and more efficiently.