New Holland Headers Series
New Holland, a name synonymous with cutting-edge agricultural machinery, offers a range of headers designed for optimum harvesting performance. These headers are the perfect companions to New Holland's combined harvesters, enhancing their efficiency and precision. Using the latest technology and keeping in mind what farmers from all over the world need, New Holland headers can manage a range of crops, from grains like wheat to plants like sunflowers. Their durability, ease of use, and innovative features ensure that crops are harvested with minimal loss and maximum productivity. As with all New Holland products, the headers reflect the company's commitment to sustainability and innovation in agriculture. For farmers aiming for high-quality harvests, New Holland headers are an investment in excellence.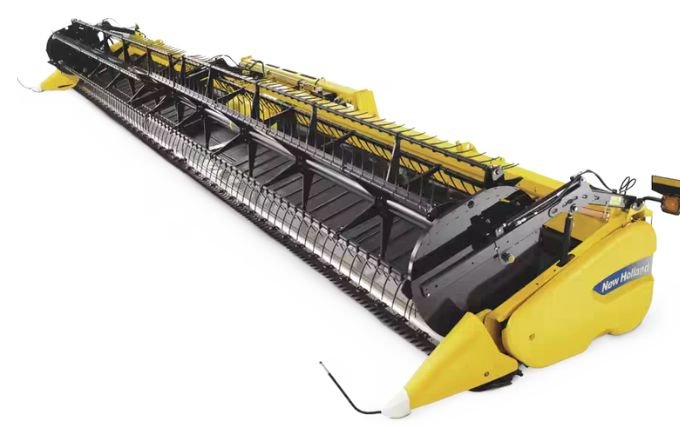 New Holland Headers Features
Adaptive Design: Tailored to fit seamlessly with New Holland combine harvesters.
Flexible Cutter Bar: Allows for close-to-ground cutting, ensuring minimal crop wastage.
Advanced Material: Made with durable, corrosion-resistant materials ensuring longevity.
Easy Maintenance Access: Thoughtfully designed access points for hassle-free servicing.
Variable Width Options: To cater to different farm sizes and crop varieties.
New Holland Headers Models
Varifeed™: This model is known for its versatile cutting capabilities. The adjustable fore-aft knife position allows farmers to adapt quickly to various crops and conditions, ensuring a clean and efficient cut every time.
Rigid Series (Corn Headers): As the name suggests, these are built with durability in mind, specifically for corn harvesting. The rigid design ensures precision in row spacing and allows for efficient corn harvesting.
Folding Series (Corn Headers): Combining durability with convenience, these headers can be easily folded, making transport and storage a breeze. This series retains the precision of the Rigid Series but adds an element of space-saving convenience.
Pickup Headers: Designed to pick up windrowed crops, these headers ensure that no crops are left behind. They are perfect for crops that have been previously cut and laid in rows.
Direct Cut Auger Headers: These headers are designed with a focus on swift and efficient cutting. The integrated auger ensures a smooth flow of crops into the harvester, reducing the chances of jams or blockages.
Draper Headers: Known for their wide spans and belt-driven design, Draper Headers are efficient in capturing large swaths of crops in a single pass. The belt system ensures a gentle handling of crops, reducing damage and loss.
Durabine™ Disc Mower-Conditioners: Beyond just harvesting, these headers cut and condition the crop simultaneously. The discs provide a clean cut, and the conditioner ensures the crops are laid out in a manner conducive to quick drying.
New Holland Headers Uses
Multi-Crop Harvesting: Efficiently harvests a variety of crops, from cereals to sunflowers and more.
High-Capacity Harvesting: Suitable for extensive farmlands, enabling farmers to harvest vast areas swiftly.
Terrain Adaptability: Performs effectively on uneven terrains, ensuring even cuts and consistent performance.
Residue Management: Provides even and finely chopped straw spread, prepping fields for the next sowing season.
Integration with Data Systems: This can be used in tandem with precision farming tools for data-driven farming.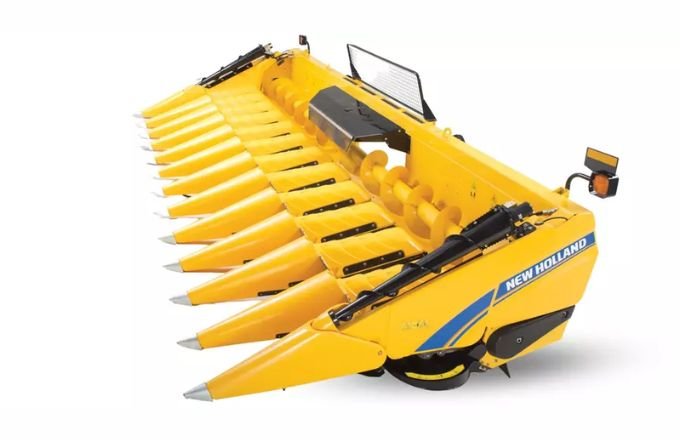 New Holland Headers Benefits
Increased Productivity: Enables faster harvesting speeds without compromising on the quality of the harvest.
Cost-Efficiency: Due to durable design, the need for frequent repairs and replacements is reduced, saving money in the long run.
Minimized Crop Loss: Precision engineering ensures that the maximum amount of crop is harvested, reducing wastage.
Enhanced Sustainability: Efficient residue management promotes soil health and reduces the need for additional field preparation.
Ease of Operation: Intuitive controls and features make it user-friendly, even for those new to advanced farming equipment.