CLAAS JAGUAR 930-990 Series
The CLAAS JAGUAR 930-990 represents a remarkable series of forage harvesters from the renowned CLAAS brand. These machines are designed to deliver outstanding performance, efficiency, and precision in various farming conditions. Known for their power and durability, the JAGUAR 930-990 series is built to handle the demands of modern-day farming. With advanced technology and user-friendly features, these harvesters not only optimize crop processing but also ensure a smoother operation in the field. Whether you're dealing with vast expanses of cornfields or navigating more challenging terrains, the CLAAS JAGUAR 930-990 stands as a testament to innovative engineering catered to the farmer's needs.
CLAAS JAGUAR 930-990 Features
High-Performance Engine: Equipped with a powerful engine designed for efficient fuel consumption and minimal emissions.
Advanced Cutterhead: Ensures consistent chop quality, allowing for adjustments based on crop type.
User-Friendly Cab: Provides excellent visibility, comfort, and easy-to-use controls for operators.
Optimized Feed Rollers: Guarantees smooth crop flow and reduced blockages.
Integrated Technology: Features onboard diagnostic tools and telemetry for real-time monitoring and troubleshooting.
CLAAS JAGUAR 930-990 Series Models
The CLAAS JAGUAR 930-990 series is a lineup of advanced forage harvesters designed to meet the diverse needs of modern agriculture. Each model in this series offers a unique blend of features, power, and capabilities, ensuring there's a JAGUAR for every farming requirement. Here's a quick overview of each model:
CLAAS JAGUAR 930:

The entry model in the series, the 930, offers a robust blend of efficiency and power, making it suitable for medium-sized farms or operations looking for a reliable and cost-effective solution.
CLAAS JAGUAR 940:

With a slightly enhanced power output and additional features, the 940 is perfect for those who require more versatility and efficiency in their harvesting operations.
CLAAS JAGUAR 950:

This model strikes a balance between advanced features and affordability. It's a favorite among professionals who need a reliable machine for diverse crop conditions.
CLAAS JAGUAR 960:

Offering even more horsepower, the 960 is designed for larger farms and more demanding conditions. Its enhanced cutter head and feed rollers ensure optimal crop processing.
CLAAS JAGUAR 970:

A high-performance machine, the 970 is ideal for extensive agricultural operations, offering faster processing speeds and adaptability to various crops.
CLAAS JAGUAR 980:

Approaching the top end of the series, the 980 boasts advanced technology, superior power, and features geared towards maximizing efficiency in large-scale operations.
CLAAS JAGUAR 990:

The pinnacle of the series, the 990, is the embodiment of cutting-edge farming technology. Designed for the largest farms and the most challenging conditions, this model offers unparalleled performance, features, and durability.
CLAAS JAGUAR 930-990 Uses
Forage Harvesting: Primarily used for cutting, gathering, and chopping plant material for silage.
Multi-Crop Processing: Capable of handling a variety of crops, including corn, grass, and cereals.
Terrain Navigation: Efficiently operates in different field conditions, from flat landscapes to rolling hills.
Lengthy Operations: Designed for extended working hours during peak harvest seasons.
Integration with Transport Vehicles: Can easily work in tandem with trucks and trailers for rapid offloading.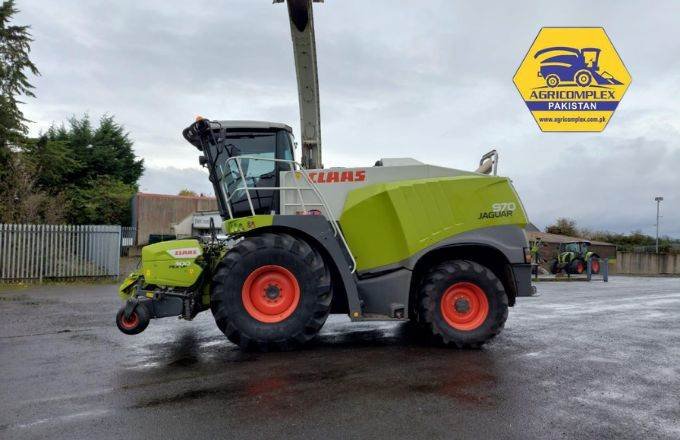 CLAAS JAGUAR 930-990 Benefits
Increased Productivity: The harvester's efficiency and speed mean more acres covered in less time.
Cost Savings: Its fuel-efficient engine and reduced maintenance needs lead to significant operational savings.
Versatility: Adaptable to various crops and conditions, eliminating the need for multiple machines.
Consistent Quality: Ensures uniformly chopped silage, vital for optimal fermentation and livestock feed quality.
Enhanced Operator Comfort: The ergonomic design and advanced cab features reduce fatigue and increase overall job satisfaction for operators.