Introduction to Drip Tape Irrigation
This irrigation system is a new way to water that has changed the way farmers and gardeners all over the world do their jobs. It makes sure that the right amount of water is used, which protects the environment and makes farms more efficient. How do I use this Drip irrigation system? It is a thin-walled drip line that helps plants get enough water in drip tape irrigation systems.
Table of Contents
---
What is Drip Tape?
KEY FEATURES
Saves water
It makes plants grow better
It doesn't break easily
Works on any land
| PROS | CONS |
| --- | --- |
| Saves a lot of water | You need to set it up |
| Strong against sun damage | |
| Fits all kinds of land | |
| It helps get better crops | |
---
Evolution of Drip Tape Irrigation System
The need to save water and get the most out of it on farms led to the idea of drip tape irrigation. It has changed a lot and now offers better ways to meet different needs in agriculture and gardening. The drip tape system was a big step toward making farming more successful and sustainable.
---
Components of an Irrigation Tape Kit
This irrigation kit has a number of important parts that work together to get the water where it needs to go. The Rolls are the main part. They let water flow straight to the roots of the plant. Drip Line Tapes and the Irrigation Tape System make sure that water goes to plants exactly where it needs to go. This helps plants grow well and saves money.
---
Setting up Garden Drip Tape
Installing irrigation tape in a garden is a step-by-step process that requires close attention to the details. It's important to set up an irrigation system in the right way for it to work well. If you follow important tips, the tape irrigation system in your yard will last longer and work better.
---
Key Features and Benefits
Drip Irrigation: Delivers water directly to plant roots, preventing water waste and dry patches.
Customizable: Adjust flow rate and placement for various plant needs with Tape Irrigation.
Water Conservation: Tape Irrigation saves water, reducing bills and benefiting the environment.
Time-Saving: Tape Irrigation automates watering, giving you more leisure in your garden.
Weed Control: Minimizes weed growth by targeting root watering.
Durability: Drip Irrigation uses high-quality materials for long-lasting value.
---
Drip Tape for Various Plant Types
This can be used to water a wide range of plants, but it's important to know which plants will gain the most from this method. Just as important is knowing which plants are bad for your garden or farm so they don't hurt your growth or yield, and you can have a healthy, lush garden or farm.
---
Where to Buy Drip Tape Irrigation Kit
To find good drip, you have to look at what's offered in stores and online. Reliable sellers make sure their items are of good quality, last a long time, and work well. They also offer customized solutions for different farming and gardening needs. If you want good results that last, you need to buy the right product.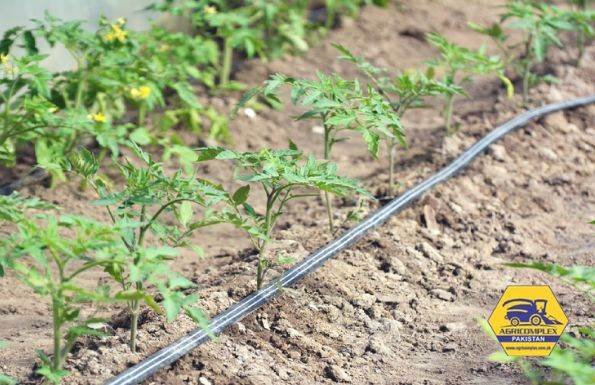 ---
Evaluating the Best Drip Tape
To choose the best, you need to look at a number of things, like how long it lasts, how well it spreads water, and how easy it is to put in place. Some drips are better and more stable than others, so they are rated higher. Because of this, they are the best choice for both growers and farmers.
---
Bulk Purchases
You can save money and always have enough if you buy it in big quantities. If you want to get good products and make sure your farming or gardening project goes easily and at full capacity, you need to know the right suppliers.
---
Maintenance of Tape Irrigation System
The tape watering system needs to be checked and fixed on a regular basis so that problems can be found quickly and solved. For the system to last and work well, it needs to be checked, looked for problems, and fixed regularly. This keeps plants from getting hurt and helps them grow as well as they can.
---
The Environmental Impact
This irrigation system helps protect the environment in a big way by saving water and stopping soil from washing away. To understand how it helps keep the soil healthy and helps plants grow well, you need to know what role it plays in sustainable farming and gardening.
---
Financial Implications of Drip Tape Irrigation
It's important to think about how much this irrigation system will cost. Even though it may cost money to set up at first, it can save a lot of money on water bills and increase food yields over time, making it a good investment for anyone who wants to improve their gardening or farming.
---
Conclusion
Drip irrigation stands out as a new way to water plants that work well. It has become an important part of farming and gardening in the modern world. Whether you garden for fun or as a job, learning about tape irrigation and using it can help you get good results that last.
---
Frequently Asked Questions (FAQ's)
What are the advantages of using drip tape for irrigation?
Drip tape helps save water, waters plants accurately, stops weeds, protects soil, and can work automatically.
How does drip tape contribute to water conservation?
Drip tape gives water straight to plant roots, so it doesn't disappear into the air or run away, which saves water.
Can drip tape irrigation be used in large-scale farming?
Yes, it can! Big farms can use drip tape, but they need to plan and invest in it. It's good for saving water on large farms.
How to choose the right drip tape irrigation system for your needs?
Think about what you're growing, your soil, and where your water comes from. Talk to experts or suppliers to find the best system for you.
Is drip tape irrigation suitable for all plant types?
Drip tape is good for most plants, but some special plants might need different watering. You can adjust it for them.
What are the maintenance requirements for a drip tape irrigation system?
Keep an eye out for clogs and leaks, clean the filters, and make sure everything works well. Change any broken parts to keep it working right.