Welcome to an insightful journey exploring one of the most groundbreaking agricultural advancements—drip irrigation—and its transformative role in Pakistan. As we navigate through the challenges of global climate change and dwindling resources, the drip irrigation system revolution in Pakistan emerges as more than just a trend; it's a lifeline. This innovative approach is lifting the country's agriculture out of its many challenges, reinvigorating the land, and giving hope to millions of farmers. The need for such sustainable practices has never been more urgent, making this revolution not just timely but essential.
---
Table of Contents
---
The Plight of Pakistan's Agriculture
Water Scarcity in Pakistan
The agrarian landscape of Pakistan faces a daunting challenge: water scarcity. The country's water resources are stretched thin with an arid climate and an ever-growing population. According to the World Bank, Pakistan is on the brink of becoming a "water-scarce" country. This impending crisis puts immense pressure on agriculture, which consumes nearly 90% of the nation's water.
FarmingChallenges
Beyond water, Pakistan's traditional farming methods, often reliant on outdated technologies and practices, exacerbate inefficiencies. From flood irrigation to manual labor, these methods squander resources and yield subpar results. Moreover, pest infestations and soil degradation are common problems affecting yield and quality.
---
Agricomplex Pakistan offers you a free consultation on the Drip Irrigation System in Pakistan. You can contact us for more information at 0309-111 06 06
---
Key Efficiencies Achieved Through the Drip Irrigation System Revolution in Pakistan
Water Efficiency
How Drip Irrigation System Design is Revolutionizing Pakistan's Agriculture becomes apparent when looking at water efficiency. Traditional irrigation methods can waste up to 50% of water due to runoff, evaporation, and wind. In contrast, drip irrigation can achieve up to 90% water efficiency.
Fertilizer Efficiency
Drip systems also allow direct application of liquid fertilizers to the root zone, making nutrient absorption more efficient. This boosts crop yield and reduces the amount of fertilizer needed, saving both money and the environment.
Disease Control
Drip irrigation can drastically reduce the waterlogged conditions that favor pest breeding and fungal diseases. Farmers can minimize conditions conducive to such agricultural setbacks by targeting only the necessary areas.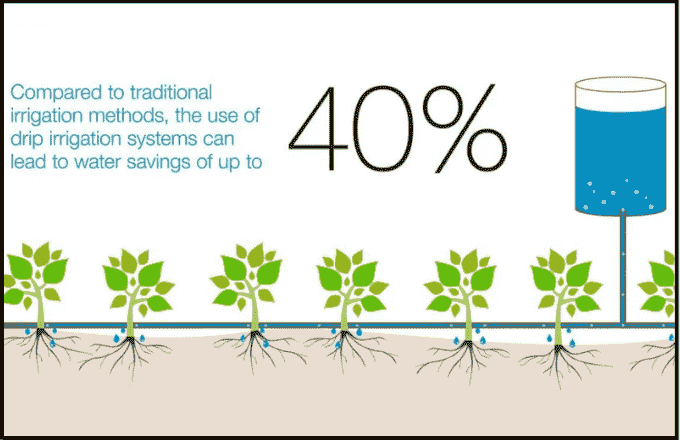 ---
Drip Irrigation System Revolution in Pakistan's Agriculture: A Closer Look
Case Studies
Drip irrigation has turned barren lands into fertile fields in various parts of Pakistan. Farmers in the province of Sindh have reported up to a 60% increase in crop yield after switching to drip systems. Benefits of drip irrigation system are very sustainable, so every farmer will eventually move to the modern irrigation system.
Farmer Testimonials
The voices of Pakistani farmers provide valuable insights into how drip irrigation has transformed their lives. Many testify to a significant reduction in labor costs and water usage, translating into higher profits and better quality of life.
---
Economic Impact of Drip Irrigation System Revolution in Pakistan
Income Boost for Farmers
Implementing drip irrigation can significantly boost a farmer's income by increasing crop yield and quality. Given the water efficiency of the system, farmers can grow more crops year-round, providing a more stable income.
National Economic Benefits
Drip irrigation also has a trickle-down effect on the national economy. With agriculture being a significant portion of Pakistan's GDP, any boost in this sector has wide-reaching implications. Increased crop yield means more exports, which, in turn, strengthens the national economy.
---
Environmental Benefits Due to Drip Irrigation System Revolution
Water Conservation
It goes without saying that the water efficiency of drip irrigation is a significant environmental boon. Given Pakistan's impending water crisis, this can't be understated.
Soil Preservation
Drip irrigation helps maintain soil structure and fertility by reducing waterlogging and soil erosion, contributing to sustainable farming practices.
---
Agricomplex Pakistan offers you a free consultation on the Drip Irrigation System in Pakistan. You can contact us for more information at 0309-111 06 06
---
Government's Role in Promoting Drip Irrigation
Policies and Subsidies
The Pakistani government has recognized the importance of drip irrigation. It has implemented various policies and subsidies to encourage its adoption. These include grants and low-interest loans for farmers who wish to switch to drip systems.
Training Programs
Training centers and workshops have been set up nationwide to educate farmers on the benefits and technicalities of drip irrigation. This education is crucial in overcoming the knowledge gap that hinders widespread adoption.
---
Private Sector Participation
Local Manufacturers
Local industries are also jumping on the drip irrigation bandwagon, manufacturing components at a lower cost making it more accessible for small farmers.
Foreign Investment
Several foreign companies have invested in Pakistan's drip irrigation sector, seeing its potential for growth and impact. These investments bring in much-needed capital and technological know-how.
---
Barriers to Adoption
Initial Cost
The initial setup cost is one of the most significant barriers to adopting drip irrigation. However, the numerous benefits justify the price when considered as a long-term investment.
Knowledge Gap
Lack of awareness and technical know-how are also significant barriers. However, as the government and private sector continue to invest in educational programs, this gap is slowly being bridged.
---
Future Prospects
Technological Advancements
Advancements in technology, such as automation and IoT, promise to make drip irrigation even more efficient and easier to manage.
Scaling Opportunities
As more farmers adopt this technology, economies of scale can be realized, potentially lowering the cost of components and setup.
---
How to Implement Drip Irrigation: A Step-by-Step Guide
Planning
Before implementing a drip irrigation system, proper planning is essential. This involves assessing your water source, soil type, and crop needs.
Installation
Installing the system is straightforward but requires careful attention to detail to ensure all components are correctly connected and calibrated.
Maintenance
Regular maintenance, such as cleaning filters and checking for leaks, ensures the long-term effectiveness of your drip irrigation system.
---
Frequently Asked Questions (FAQ's)
What is the cost of implementing a drip irrigation system in Pakistan?
The cost varies depending on the land's size and the system's complexity. Still, subsidies and grants are available to help offset these costs.
How can I get a subsidy for drip irrigation in Pakistan?
The government has various programs offering subsidies and grants for adopting drip irrigation. Information can be obtained from local agricultural offices.
Is drip irrigation suitable for all types of crops?
While highly versatile, drip irrigation is most efficient for crops that require precise water control, like fruits and vegetables.
Do I need technical expertise to manage a drip irrigation system?
Some basic knowledge is required, but numerous training programs can equip you with the necessary skills.
How reliable is a drip irrigation system?
A drip irrigation system is highly reliable when properly maintained and lasts many years.
Can I install a drip irrigation system myself?
While installing a basic system yourself is possible, professional installation is recommended for more complex setups.
---
Conclusion
Drip irrigation is more than just a trend; it's necessary and a solution. It is a testament to what can be achieved when innovation meets necessity. For Pakistan, a country grappling with the challenges of water scarcity and outdated farming practices, How Drip Irrigation is Revolutionizing Pakistan's Agriculture is not merely a question; it's an ongoing success story that promises a brighter, more sustainable future.
---
Agricomplex Pakistan offers you a free consultation on the Drip Irrigation System in Pakistan. You can contact us for more information at 0309-111 06 06