CLAAS is renowned for its cutting-edge agricultural machinery, and its headers are no exception. These equipment pieces, designed for efficient harvesting, seamlessly attach to combines, enhancing their performance. From grain crops to sunflowers, CLAAS headers optimize the harvest process, ensuring minimal grain loss and maximum output. By incorporating advanced technology and robust design, they cater to diverse agricultural needs, proving to be a game-changer for farmers across the globe. Choose CLAAS headers if you prioritize efficiency, durability, and top-notch harvesting results.
CLAAS Headers Features
Advanced Design: The intricate design of CLAAS headers ensures precision in cutting and harvesting.
Durability: Built with high-quality materials, these headers are made to withstand tough farming conditions.
Flexibility: Adjustable settings allow farmers to cater to different crops and conditions with ease.
Integration with Technology: Many models come with sensors and advanced tech components to guide and automate certain processes.
Class Headers Models
1. CERIO

The CERIO model is designed for adaptability. Its adjustable knife bar ensures precise cuts, ideal for various crops, allowing farmers to fine-tune their harvesting process for optimal results.
2. Vario

Vario stands out with its continuous adjustability for different grain crops. With its unique design, the Vario model ensures minimal grain loss and can be adapted to changing field conditions in real time.
3. Conspeed

Tailored specifically for corn harvesting, the Conspeed model is all about efficiency. Its rows are designed to ensure minimal kernel damage, guaranteeing an excellent corn harvest every time.
4. Orbis

Orbis is a favorite for those looking to harvest forage. With its wide and effective design, it promises fast foraging, perfect for farmers needing large quantities of livestock.
5. Pick Up

The Pick Up model is known for its gentle touch, particularly effective for crops that require careful handling. Its design ensures that the crops are picked up without damaging them, leading to better quality harvests.
6. Direct Disc

Direct Disc is all about direct cutting. Bypassing the traditional drum-based harvesting methods, this model allows for a straight cut, perfect for grains and other similar crops. It guarantees minimal grain loss and a quicker harvest.
7. Maxflo

The Maxflo model is recognized for its efficiency in large fields. Its wide design ensures a larger coverage area, reducing the number of passes required and ensuring faster harvests with minimal waste.
CLAAS Headers Uses
Grain Harvesting: Efficiently harvest wheat, barley, and other grains.
Sunflower Collection: Designed to gently and efficiently gather sunflower seeds.
Forage Harvesting: Some headers are tailored for collecting forage for livestock feed.
Corn Harvesting: Specialized headers for collecting corn without damaging the kernels.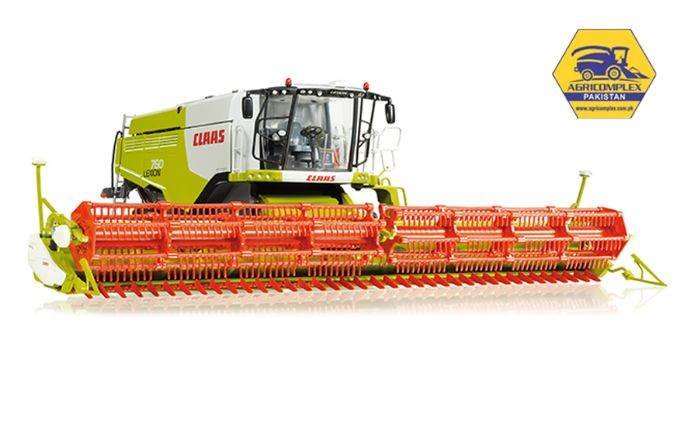 CLAAS Headers Benefits
Increased Yield: Minimize grain loss and boost the overall yield.
Time-saving: Faster harvesting processes mean farmers spend less time in the field.
Cost-Effective: Durable and efficient design reduces maintenance costs and increases the lifespan of the equipment.
Versatility: One machine can be adjusted for multiple crops, eliminating the need for multiple machines.