The sugar cane harvester is a nifty machine made especially for the job of gathering sugar cane, a tall tropical perennial grass. Before these machines came along, people used to pick sugar cane by hand. It really took a lot of effort and a good chunk of time. Now, with the modern sugar cane harvester, large areas of sugar cane can be efficiently cut and collected in a fraction of the time. This innovation has not only increased productivity but has also reduced the reliance on manual labor. The machine typically operates by cutting the stalk at the base, stripping the leaves, and then chopping the cane into set lengths, ready for transportation and processing.
Sugar Cane Harvester Features
Self-propelled design: Allows the machine to move through fields without needing a separate vehicle.
Multiple cutting blades: Ensures even and efficient cutting of the sugar cane stalks.
Leaf stripping mechanism: Removes unwanted leaves from the stalks automatically.
Onboard storage: Provides space for temporarily storing cut cane before offloading.
Adjustable cutting height: Allows for optimal cutting based on the maturity of the cane.
Sugarcane Harvester Models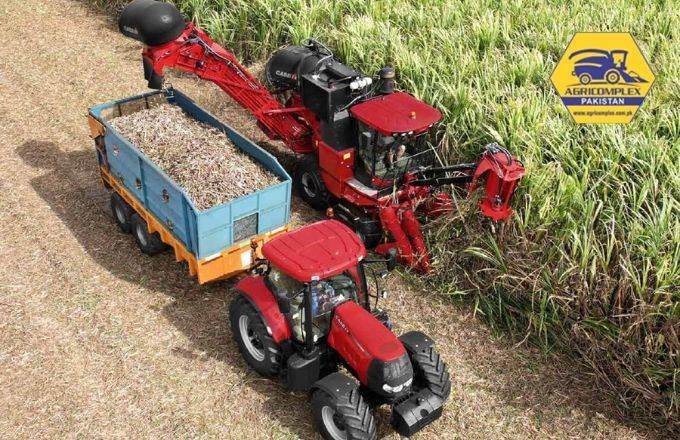 CH330:

A model known for its reliability and efficient performance in small to medium-sized fields. The compact design makes it suitable for fields with tighter spaces.
CH570:

A more advanced harvester, the CH570 offers higher capacity and enhanced features for larger plantations, ensuring quick and even harvesting.
CH3500: 

Building on the features of its predecessors, the CH3500 offers enhanced speed and performance, making it a favorite among large-scale producers.
CH2500:

 A robust and powerful harvester, the CH2500 is known for its high-capacity harvesting and durability, ensuring long-term operation without frequent maintenance.
Austoft 4000:

A versatile model that provides a balance between performance and affordability. It's designed for varying field conditions and terrains.
Austoft 8010:

 This model is designed for maximum efficiency and output. It is suitable for vast fields and commercial operations with its advanced cutting mechanisms.
Austoft 8810: 

A top-tier model in the Austoft series, the 8810 combines high-speed harvesting with precision, ensuring minimal wastage and optimum yield.
CR8.90 SugarCane Harvester:

 This model boasts state-of-the-art technology, offering both efficiency and precision. It's suitable for modern plantations looking for the best in sugarcane harvesting technology.
Sugar Cane Harvester Benefits
Increased Efficiency: Harvests large fields in a fraction of the time compared to manual methods.
Cost-effective: Reduces labor costs and dependence on manual labor.
Consistent Quality: Ensures uniform cutting, resulting in consistent raw material quality.
Safety: Reduces potential injuries associated with manual cutting tools.
Eco-friendly: Modern designs lead to less wastage and more sustainable farming practices.
Sugar Cane Harvester Uses
Large-Scale Harvesting: Used in vast sugar cane plantations to meet high production demands.
Raw Material Collection: Directly sends harvested cane to sugar mills for processing.
Land Management: Helps in maintaining and managing large agricultural areas by ensuring regular harvesting.
Alternative Fuel Production: Harvested cane can be used for producing biofuels like ethanol.
Research & Development: Utilized in experimental fields to test the growth and yield of new sugar cane varieties.