The Claas 3200 Quadrant stands as a testament to advanced agricultural machinery, serving as an indispensable tool for farmers and large-scale hay producers worldwide. Designed by Claas, a name synonymous with innovation and quality in the farming industry, this hay baler boasts efficiency, durability, and precision. With the ability to produce tightly packed and consistent bales, the 3200 Quadrant ensures minimal hay loss, optimal storage, and easy transport. Its robust construction means it can withstand the rigors of the field. At the same time, its user-friendly interface ensures that operators, whether seasoned or new, can harness its capabilities effectively. A blend of cutting-edge technology and practical design, the Claas 3200 Quadrant truly revolutionizes hay baling.
Claas 3200 Quadrant Features
High-Speed Baling Mechanism: Enables rapid processing of hay, making it ideal for large-scale operations.
Adjustable Bale Size: Offers flexibility in choosing the size of the bale according to the user's requirements.
Intuitive Control System: Modern interface that simplifies operations and reduces setup time.
Durable Construction: Built with high-grade materials to ensure longevity and minimal maintenance.
Efficient Knotting System: Ensures tight and secure bales every time.
Claas 3200 Quadrant Specifications
Bale Dimensions: Adjustable, typically ranging from 70cm x 120cm to 120cm x 130cm, accommodating various sizes for diverse applications.
Weight: Approximately 8,000 kg (specific to the model), reflecting its robust construction.
Power Requirement: Engineered for optimal power consumption, typically requiring 150-180 horsepower (112-134 kW) for smooth operation.
Output Capacity: Capable of producing up to 45-55 bales per hour or 12-15 bales per hectare, depending on field conditions and material density.
Material Compatibility: Designed to handle a variety of materials including but not limited to timothy hay, alfalfa, wheat straw, and barley straw.
Claas 3200 Quadrant Benefits
Cost-Efficiency: Its speed and efficiency translate to reduced labor costs and faster ROI.
Versatility: Suitable for different types of hay and straw, broadening its utility.
Reliability: Consistent performance reduces downtime, ensuring continuous operation.
Optimal Storage: Produces uniformly shaped bales that are easier to stack and store.
Reduced Wastage: Tightly packed bales mean minimal hay loss during handling and transport.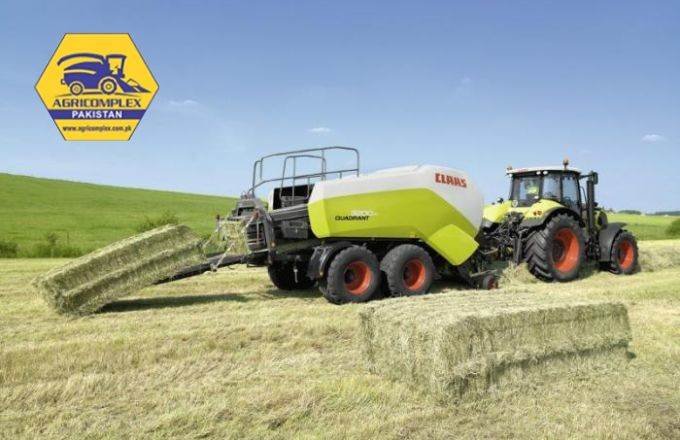 Claas 3200 Quadrant Uses
Hay Baling: Ideal for converting large volumes of loose hay into compact bales.
Straw Processing: Efficiently turns straw residues into marketable bales post-harvest.
Biomass Production: Suitable for producing bales for bioenergy applications.
Landscaping: Used for producing mulch bales for large-scale landscaping projects.
Animal Feed Production: Converts feed materials into easily transportable and storable bales.