What is Alfalfa Hay?
Alfalfa hay is often called the "Queen of Forages" due to its high nutritional content and versatility. Rich in proteins, vitamins, and minerals, alfalfa hay serves as a cornerstone of livestock feed. If we rank the best forage, alfalfa hay in Pakistan is the best option among all.
Alfalfa hay is also called loosen hay in Pakistan, which is one of the prime and beloved animal feeding sources for dairy cattle. It provides maximum fiber and protein for cattle and dairy animals. Farmers who have their dairy cows, buffaloes, goat, and sheep, demand Pakistani alfalfa hay when its season starts. Pakistan has perfect weather and temperature to sow and grow alfalfa lucerne hay. In all comparisons, alfalfa cultivation in Pakistan is at the top of all other countries.  Grown from perfect alfalfa seeds in Pakistan it will have high protein, minerals, and vitamin values. Cultivators, producers, and alfalfa hay exporters from Pakistan are now increasing enormously day by day.
---

Table of Contents
---
Importance of Alfalfa Hay in Pakistan
Agriculture is the backbone of Pakistan, and alfalfa hay holds a significant position in this sector. It's primarily used as fodder for livestock, supporting the country's dairy and meat industries.
Energy for other cattle
Alfalfa is the best feed for cows in Pakistan specifically and an excellent source of energy for other cattle in general. Alfalfa hay for goats is a very important nutritionist standpoint if fed properly. You can feed this animal forage to all your other farm animals including horses, sheep, donkeys, and hens. Alfalfa suppliers and alfalfa hay exporters from Pakistan are trying their best to meet the demand in both domestic and international markets. Agricomplex Pakistan is among the top and one of the largest alfalfa hay exporters from all animal feed companies in Pakistan. Agricomplex provides the best alfalfa hay price in Pakistan without compromising on quality. Our provided animal forage will help the cattle breeders, and dairy farmers to increase milk and meat production.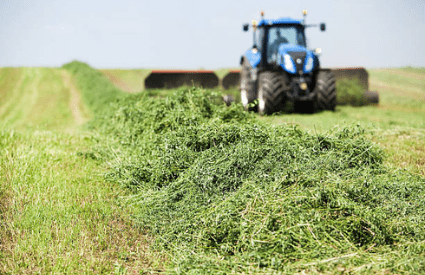 ---
History of Alfalfa in Pakistan
Early Cultivation
The history of alfalfa in Pakistan can be traced back to ancient times when the crop was introduced as a fodder plant. Over time, it has become an integral part of farming landscapes nationwide.
Modern-Day Importance
Today, alfalfa has taken on a role of increased significance due to the growing demand for dairy and meat products.
---
Geographical Distribution
Regions Favorable for Alfalfa
Primarily, alfalfa is cultivated in the provinces of Punjab and Sindh due to their fertile soil and favorable climatic conditions.
Soil and Climate Conditions
Alfalfa prefers well-drained, loamy soil and requires moderate to cool climates for optimal growth. The crop is pretty hardy and can tolerate some drought conditions.
---
Cultivation Methods
Traditional Farming
Traditionally, alfalfa is sown in rows and irrigated by flooding the fields.
Modern Techniques
However, modern methods like direct drilling and no-till farming are becoming increasingly popular.
---
Irrigation Techniques
Surface Irrigation
The traditional method involves flooding the fields, but this can be wasteful.
Drip Irrigation
Drip irrigation helps reduce water usage, ensuring a more sustainable alfalfa crop.
---
Pest Control
Chemical Methods
Insecticides are commonly used but come with environmental concerns.
Organic Methods
Biopesticides and natural predators are encouraged to maintain a balanced ecosystem.
---
Harvesting
Best Time for Harvest
Alfalfa is usually harvested during its budding or early flowering stage to maximize nutrient content.
Equipment Used
From sickles to modern-day harvesters, the choice of equipment can vary based on scale and budget.
---
Nutritional Value
Composition
Alfalfa hay is rich in proteins, vitamins like A, D, and E, and essential minerals such as calcium and phosphorus.
Benefits for Livestock
Its nutritional richness enhances milk production and general health in livestock.
---
Economic Importance
Export Value
Alfalfa hay is also exported to countries like Saudi Arabia and UAE, providing a source of foreign income.
Domestic Consumption
Locally, it's a popular choice for animal feed, supporting livestock farming, a significant industry in Pakistan.
---
Quality Control
Government Regulations
The government has set standards to ensure the quality of alfalfa hay consumed domestically and exported.
Farmer Practices
Farmers also adopt best practices to produce high-quality alfalfa.
---
Challenges and Constraints
Financial Issues
High costs for quality seeds and modern equipment can be a constraint.
Environmental Concerns
Climate change impacts and the overuse of water resources are becoming threats.
---
Alfalfa Hay Vs. Other Fodders
Comparative Analysis
Compared to other fodders like corn silage, alfalfa offers superior nutritional benefits.
Pros and Cons
However, it's more expensive and requires better soil and climatic conditions.
---
Future Prospects
Research and Development
R&D efforts are aimed at making alfalfa farming more sustainable and profitable.
Government Initiatives
Government subsidies and training programs aim to boost the alfalfa hay industry.
---
Case Studies
Success Stories
Some farmers have effectively doubled their income by switching to alfalfa cultivation.
Lessons Learned
However, investing in quality seeds and modern farming techniques is essential for optimal results.
---
Customers And Their Requirements
At Agricomplex, we constantly pay supreme attention to our customers and their requirements, the dispensation, storing, and reservation are achieved with accuracy. Agricomplex doesn't compromise on the excellence of the produce and our facility, no matter the demand is more substantial or trivial. We continuously retain the maximum values for our crops. We similarly take care of all additional content combinations through this hay throughout the spray of fertilizers and pesticides. All these steps are considerable to us so our clients get the finest quality of lussen hay. We make standard-sized hay bales so these bales organize this feed for long-term use. We pack them in three different kinds of bales that we are going to discuss below.
Regular Bales
This is a kind of hay that does not require an extra packing material or plastic silage film. The packing of this hay is convenient which is why this hay for sale in Pakistan is easily available. We produce silage bales on the field at the time of harvest. The packaging is very easy and commonly use among alfalfa suppliers. Agricomplex is playing its role to increase alfalfa cultivation in Pakistan by following high standards for making regular bales and preserving them for long-term animal forage storage.
Dual Compressed Bales
In compressed bale packing, the regular bales are flattened additionally in a machine to make smaller alfalfa hay bales. Regularly this kind of packing is complete when the export of hay is required and it has to be packed in 40 feet container price in Pakistan should below. This process will make forage capture a fewer place in the container with the same volume.
Huge Sized Bales
Agricomplex is providing huge-sized bales of alfalfa hay for sale in Pakistan. These are mostly larger than five hundred kg and lesser than or equal to a thousand kg. Farmers sow these Alpha alpha grass hay bales with the finest alfalfa seeds in Pakistan available for a reasonable price. For the satisfaction of customers who need intermediate to large even huge-sized bales.
---
Agricomplex Pakistan
Agricomplex Pakistan is a pioneer and the leader in alfalfa haymaking. Its professional agriculturists have complete knowledge of all aspects of haymaking and its uses. They know the value of modernization in agriculture. Our organization has a rich history, and its agricultural professionals have all the alfalfa hay production procedures know-how. We have top-of-the-line haymaking machinery. Agricomplex is at the top of the list when we compare Pakistan's best growers, suppliers, and alfalfa hay exporters. ld of 2023
---
Conclusion
Alfalfa hay in Pakistan holds great potential for economic growth and sustainable agriculture. With its rich nutritional profile and growing demand, alfalfa could be the green gold of Pakistan's agricultural future.
---
Frequently Asked Questions (FAQ's)
How is alfalfa hay different from other fodders?
Alfalfa hay has a higher nutritional content compared to other types of fodder.
Is alfalfa hay only used for livestock feeding in Pakistan?
Predominantly, yes. However, it is also exported for other uses.
What are the main challenges in alfalfa cultivation in Pakistan?
Financial constraints, climate change, and water usage are the main challenges.
How is the quality of alfalfa hay regulated in Pakistan?
Both government standards and farmer practices work in tandem to maintain quality.
What are the prospects of alfalfa hay in Pakistan?
With ongoing research and government initiatives, the future looks promising for alfalfa hay in Pakistan.
---
Looking for expert advice on Alfalfa Hay in Pakistan? Agricomplex Pakistan offers a free consultation to answer all your questions. Contact us today at 0309-111 06 06.