Agricomplex has built a strong reputation as a leading producer of the Best Animal Feed in Pakistan, specializing in dairy, grains, and poultry feed. With over five decades of experience, they continue to focus on research and development to improve the quality of their forage & hay feeds as well as agricultural machinery.
The company has strategically located facilities across the rural regions of Punjab, KPK, and Sindh. This enables Agricomplex to distribute its products, including the Best Animal Feed in Pakistan, throughout the country. They even serve the neighboring areas of Balochistan, Karachi, and Lahore and have a footprint in the export market as well.
Agricomplex's primary mission is to deliver premium quality corn silage, oat hay, and other forage options. These products are specifically designed to meet the nutritional needs of dairy and grain animals, thereby supporting local farmers. While the company predominantly serves domestic customers, it also extends its expertise to the importation of agricultural machinery, making it a one-stop solution for the Best Animal Feed in Pakistan and related agro-equipment.
---
Table of Contents
---
Products of Agricomplex
Their primary products include silage machinery, parts and accessories, and forage & hay. They have been able to sustain a reasonable price level through their innovation and superior production capabilities because they pride themselves in using only natural ingredients for their livestock feeds. They are among the few animal feed manufacturing facilities that use chemical-free substances.
The business continues to expand and increase. Agricomplex has recently diversified by offering dairy and animal feed. They intend to be the number one provider of premium quality animal feeds in Pakistan. In the past, Agricomplex Pakistan has mainly been a manufacturer of silage machinery accessories and dairy machinery. Still, in recent years, they have broadened their scope and offer quality products for livestock, dairy, fish, and poultry. The business model continues to innovate, invest in quality control, and successfully meet customer demands for domestic and export markets.
Agricomplex has several partners that sell different animal feeds, mycotoxins, and aflatoxins. Fertilizer plants and pharmaceutical industries are also located here.
The primary animal feed consumers are located in Rawal Fork, Mariska, Hayat, Shahid Qureshi, Gulabi, Swat Valley, Sholapur, Shahar, Buner, Chahal, Chashmasht, Borma, Shopi, Jehangir, Kargil, Chittorgala, Chilcote, Aurangabad, Chutki, Kangra Valley, Azad Maidan, Margalla, etc. due to extreme winter season.
Apart from these, the animal feed plants produce other animal feed products like oat mash, bovine pellets, maize, sheep feed, horse hay, cottonseed meal, sheep wax, etc. However, mycotoxins are a significant concern in this sector. Mixtures of mycotoxins and toxins can contaminate crops and produce harmful symptoms in animals like kidney failure, kidney damage, etc.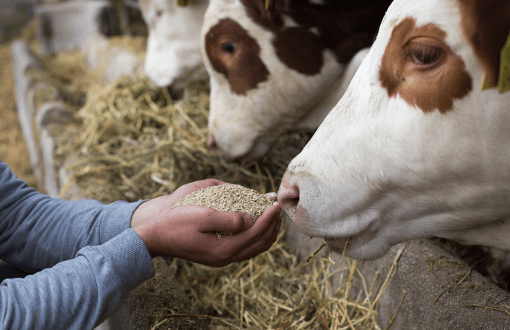 ---
Bioconversion And Dehydration Processes
Bioconversion and dehydration processes are vital in this industry. It means the conversion of raw material into a finished product. This process is used to produce feeds for poultry, cattle, wildlife, etc. Because it involves several chemical processes like phosphate, potassium, sodium, etc. The dehydration process is responsible for removing the water content from raw material and converting it into moisture content.
The demand for animal feed items like corn silage, oat silage, hay, wheat straw, peanut straw, etc., is increasing day by day. However, animal health has become an essential concern for all of the provinces in Pakistan because various industries are engaged in producing efficient and effective feed additives.
One of the popular feed additives is mycotoxins. Mycotoxins are commonly used in the animal health sector. Methylisothiazolinone (MIS) is a mycotoxin that has the potential to cause severe health defects. Animal feeds containing mycotoxins have to be avoided.
---
Importance of Quality Animal Feed
If you're into animal farming, you know that what you feed your livestock makes all the difference. High-quality feed is to livestock what a balanced diet is to us humans. In Pakistan, where animal farming is key, choosing the right feed is crucial.
---
Brief on Animal Farming in Pakistan
Animal farming holds significant value in Pakistan's economy. From small farms to commercial setups, the feed quality can uplift or sink your farming game.
---
Types of Animal Feed
Commercial Feed
Commercial feeds are factory-produced and contain all the essential nutrients. Brands such as Sharif Feed, SB Cattle Feed, and K&N offer various types of commercial feed.
Natural Feed
Natural feeds include things like grains, pasture, and hay. Although honest, they often need to be supplemented with vitamins and minerals.
---
Essential Nutrients
Proteins
Proteins are the building blocks of life. They promote growth and are essential for milk production in dairy animals.
Fats
Fats provide energy and are essential for the absorption of certain vitamins.
Vitamins
Vitamins like A, D, and E are vital for various bodily functions like vision and bone growth.
---
Top Brands in Pakistan
Sharif Feed
Known for its nutritional balance, Sharif Feed has become a go-to for many farmers.
SB Cattle Feed
SB Cattle Feed is popular for its quality and affordability.
K&N's
K&N's specializes in poultry feed and has made a name for its quality.
---
Factors to Choose the Best Animal Feed in Pakistan
1. Nutritional Value
Always look for feed that offers a balanced nutrition profile.
2. Cost
Affordability is key, but remember: you get what you pay for.
3. Availability
Choose a brand that is readily available near you.
4. Organic vs. Non-organic Feed
Organic feed is becoming increasingly popular but is often more expensive than non-organic options.
5. Local Market Trends
Keeping an eye on local market trends can help you make educated decisions.
6. How to Store Animal Feed
Improper storage can ruin even the best feeds. Always store in a cool, dry place.
7. Economic Impact of Quality Feed
Better feed leads to better yields, which positively impacts the economy.
8. Online Purchase Options
Nowadays, you can even buy quality animal feed online!
9. Benefits of Quality Animal Feed
Quality feed leads to healthier animals, better produce, and higher profits.
10. Challenges and Solutions
While the cost can be challenging, the benefits far outweigh the risks.
11. Regulations and Standards
Always look for feed that complies with Pakistani regulations for animal feed.
12. Success Stories
Many farmers have seen incredible results by switching to high-quality feeds.
---
Animal Feed Additives
Feed additives have been a blessing for the pharmaceutical industry in producing new drugs for various ailments and diseases affecting animals. However, misuse of these additives can lead to many hazards. Corn silage feed is the best alternative to other feeds!
The livestock industry in Pakistan is developing day by day. However, most of the farmers need to make more profits to satisfy their needs. Several government programs were designed and implemented to provide financial aid to improve the conditions of the livestock traders and farmers in Pakistan. One of the most popular feed additives is sodium benzoate. But the other additives that can be used are urea, potassium bentonite, calcium carbonate, etc.
Dairy industry
To meet the dairy industry's needs in Pakistan, several researchers and technocrats were appointed to develop new, improved animal feed products. These products can be readily available in the local markets. Moreover, you can purchase all these animal feed and forage supplements from Agricomplex online stores at affordable prices.
As a result, more people are now interested in raising dairy and taking care of them. Poultry growers widely use animal feed products to enhance the productivity of their business. These farmers can produce healthy and well-groomed animal forage with the help of these animal feed supplements available on the markets.
There is a very famous online portal, AgriThing, which is very popular over the internet. However, it is one of the best online resources for looking for reliable and cost-effective poultry raising and feed supplement products.
---
Conclusion
In summary, when it comes to animal farming in Pakistan, the decisions you make about feed are not just routine choices; they are strategic investments in the health and productivity of your livestock. Opting for the best animal feed in Pakistan is a decisive factor that translates into healthier animals, higher yields, and, ultimately, increased profits for farmers.
Given the crucial role that livestock plays in the nation's economy, the significance of choosing top-quality feed cannot be overstated. Whether you are in the dairy, poultry, or grain sector, investing in the best animal feed in Pakistan is an investment in the long-term sustainability and profitability of your farming operations.
---
Frequenlty Asked Questions (FAQ's)
What are some reliable brands for animal feed in Pakistan?
Sharif Feed, SB Cattle Feed, and K&N's are popular choices.
Is organic feed better than non-organic feed?
Organic feed is considered healthier but is generally more expensive.
How do I store animal feed?
Store in a cool, dry place away from moisture.
What nutrients are essential in animal feed?
Proteins, fats, and vitamins are crucial for animal growth and health.
Can I purchase animal feed online?
Yes, several brands offer online purchase options.
---