---
An Introduction to Stump Bucket
They are an indispensable tool for anyone in the tree removal or forestry industry. Essentially, these are specialized attachments designed to make the laborious task of stump removal quick, efficient, and less back-breaking. Whether you're using a skid steer, a tractor, or an excavator, there's a stump bucket attachment tailored to your needs.
---
Table of Contents
The Utility of a Stump Bucket
Beyond just its removal, these buckets come in handy for a plethora of tasks including digging ditches, removing large rocks, or even tearing up old pavement. The versatility they offer makes them an essential asset for professionals and DIY enthusiasts alike.
Skid Steer: Features and Benefits
When you think of stump removal, skid steers are probably one of the first machines that come to mind. Known for their agility and power, they're an excellent choice for this kind of task. Attach the same bucket to one, and you've got a match made in forestry heaven. The sharp, sturdy design allows for efficient penetration into the ground, ensuring a clean and thorough job.
Same Bucket for Tractor: Making the Most of Your Tractor
Tractors are omnipresent in farming and landscaping. Adding the same bucket takes their utility up a notch. Given their power, tractors can manage bigger stumps with ease, and with the right attachment, the process becomes seamless.
John Deere Bucket: Brand Matters
When it comes to tractors and related attachments, John Deere is a name that stands out. They are renowned for durability, effectiveness, and compatibility with various models. Investing in a brand that has been in the industry for decades brings a sense of trust and assurance.
Are you a landscaping pro or a DIY enthusiast looking to tackle those stubborn stumps in your yard with ease? Look no further than the Stump Bucket! Designed with precision and power, this essential landscaping tool is your ticket to hassle-free stump removal.
Kubota and Its Notab Bucket for Tractor
Kubota is another big name when we talk about tractors. It's, especially the quick attach models, efficient and user-friendly. If you own a Kubota tractor, getting a compatible stump bucket from the same brand often guarantees a perfect fit and optimal performance.
Quick Attach Same Bucket: Ease of Use
The world is moving towards convenience, and quick-attached buckets are a testament to that. They make the attachment and detachment process a breeze, saving time and effort. Whether it's for a compact tractor or a heavy-duty one, there's a quick attach model for everyone.
Compact Tractor Bucket: Size Does Matter
Compact tractors are becoming increasingly popular due to their adaptability and size. However, their bucket attachments are specially designed to complement their size without compromising on efficiency. So, even if you have a smaller tractor, there's no need to fret about stump removal.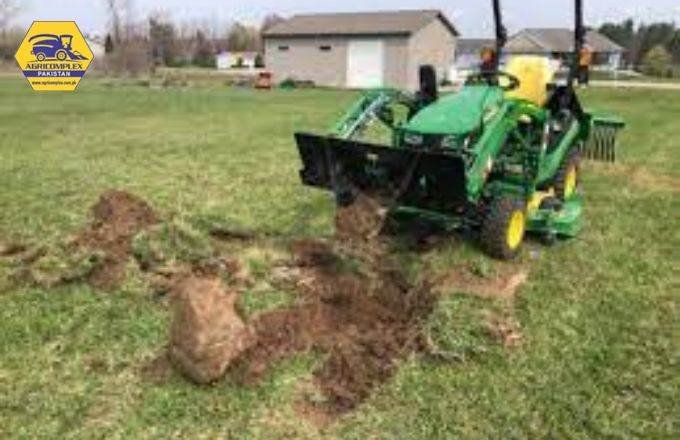 Stump Bucket for Sale: Buying Guide
With myriad options available, buying the same bucket can be overwhelming. But worry not! Look for durability, brand reputation, compatibility with your machine, and customer reviews. Remember, an informed decision now can save a lot of hassle later on.
| PROs | CONs |
| --- | --- |
| The Stump Bucket's sharp cutting edge and robust construction make quick work of even the most stubborn stumps, saving you time and effort. | While its compatibility with heavy machinery is an advantage, it may only be suitable for those with access to such equipment. |
| Crafted from high-quality materials, this tool is built to withstand the rigours of heavy-duty use, ensuring long-lasting performance. | Using the Stump Bucket effectively may require some experience, so beginners should exercise caution and seek guidance if needed. |
| Its streamlined design and ergonomic handle provide a comfortable grip, allowing you to work efficiently without straining your muscles. | |
| Compatible with a wide range of heavy machinery, the Stump Bucket can easily attach to your existing equipment, reducing the need for additional investments. | |
| The precise cutting edge ensures that you can remove stumps with minimal disruption to the surrounding landscape, leaving your yard looking pristine. | |
Dive Into the World of Stump Diggers
Stump diggers are akin to buckets but are more specialized in their design and function. These are perfect for those who specifically focus on stump removal. Their precision and efficiency are truly commendable.
Bobcat vs. GWT: A Stump Bucket Showdown
Both Bobcat and GWT are heavyweights in the same industry. While Bobcat is known for its longevity and robust design, GWT is famed for its innovation and customer-centric approach. Ultimately, the choice boils down to personal preferences and specific needs.
Conclusion:
Same buckets have revolutionized the way we approach stump removal. With continual advancements in technology and design, their future looks promising. As more professionals and homeowners recognize their utility, their demand and innovation are bound to surge. Choose wisely, use safely, and here's to a stump-free landscape!
FAQs
What is the primary purpose of a stump bucket?
It is mainly designed for stump removal, but its versatile design allows for other tasks like digging, rock removal, and tearing up old pavement.
How does a quick attach stump bucket work?
A quick attach bucket is designed for easy and swift attachment and detachment from the machine, reducing manual effort and time.
Which is better: a stump bucket or a stump digger?
Both are effective, but while they are versatile, stump diggers are specialized for stump removal, offering precision.
Are brand-specific stump buckets better?
Often, yes. Brand-specific models like John Deere or Kubota are tailored for compatibility with their respective machines.
Can I use a stump bucket for tasks other than stump removal?
Absolutely. Its design allows for a variety of tasks including digging ditches or removing rocks.