Description
Available Models:
G2V   |   G4V   |   G6V PROFILINE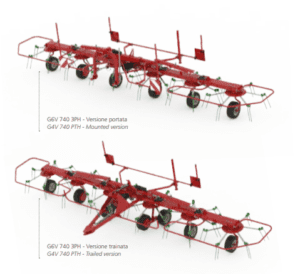 Product Deion:
The Enorossi tedders are designed to work in all possible ground conditions. Easy and manageable in use and transport, they guarantee an optimal distribution of the forage allowing a fast and uniform drying.
Articulated tedder section G2V Ground adaptation through independent rotors with articulated frame sections and large diameter wheels. Articulated three-point hitch with shock absorbers. Only for G4V and G6V mounted. At work, the mounted Vortex G4V and G6V perfectly follow the tractor thanks to the articulated three-point hitch with shock absorbers. These tenders are compact machines, available both with a third-point hitch with pivoting wheels and trailed with fixed wheels. The trailed version is equipped with a handle for adjusting the working angle. The protections can be folded manually for transport.